Seriously, you can do anything here! Drink, party, explore your sexuality, experiment with virtual drugs; all within the safety of your own home!  Experience the Virtual World and interact with millions of like-minded adults who are always willing to experiment. Here in Red Light Center, anything goes! As long as you abide by our Terms of Service we have a lot of fun in store for you.
Let's get started by learning how to create your profile and navigate your customizable Social Center with our Social Center Tutorial.
We want you to get out there and meet people from all around the world. By checking out our Events Calendar you will find great parties happening right now all over RLC.

Money makes the world go around, right? That's why here in RLC we have a World Currency called Rays. Rays can be earned or purchased and then exchanged within the Virtual World for services and virtual goods. Spend money or make it. The choice is yours! Check out the Rays Marketplace for more information.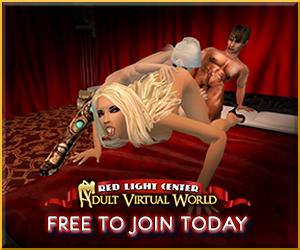 A basic membership is, well, basic, but a VIP membership is even better! Upgrade today and have full access to the scandalous side of RLC. Sounds hot, doesn't it? Let us show you the ropes and have a sneak peak of the perks of VIP with our How to Have Sex Guide.
Now I bet you're ready to get out there, but just to make that a bit easier, welcome to the wonderful world of Working Girls and Guys; RLC's premier erotic service providers. Let the ladies and gentlemen of Bareback Bordello take care of your every fantasy. These people know the art of seduction, and just how to find your every desire. Browse through hundreds of Working Girls and Guys catering to every fetish in our WG Directory. Be prepared to shell out some Raysthough, anyone with this kind of talent doesn't work for free.